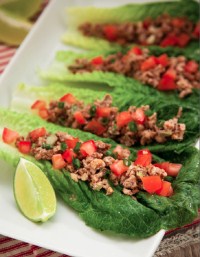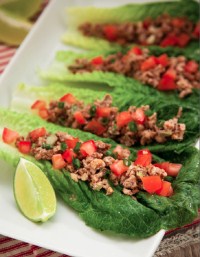 It's quick, easy, and your kids (big and small) will love it!

Makes 2 servings

Ingredients:
1 c raw walnuts
½ clove garlic, minced
½ green onion, diced
juice of ½ lemon
2 tsp Bragg's liquid aminos
1 tsp cumin
1 medium tomato, diced
4 large romaine lettuce leaves
salt and pepper, to taste
Directions:
1. Place walnuts into a food processor until finely chopped.
2. Place chopped walnuts into a bowl with garlic, green onion, lemon juice, liquid aminos, and cumin. Mix together well.
3. Add salt and pepper to taste.
4. Place a scoop of the taco filling on a lettuce leaf and top with tomatoes.
5. Roll up and enjoy!

HOTNESS FACTOR
Walnuts are one of the best sources of omega-3 fatty acids which will help boost weight loss. Plus the polyunsaturated and monounsaturated fat content reduces cholesterol.
Recipe from the Hungry Hottie Cookbook
Insert date: 2016-04-14 Last update: 2016-04-14
Comment




Difficulty level > Beginner
Authors > Beth McClelland
Time required > <15 - Less than 15 minutes